I did what I love for a living with the people I love !
I did it & I still do it !!!
Bye, bye France
Good Morning London
Born and bred in Lille, in the North of France, Michèle-Marie passed her "Baccalaureat" at 18 and left for "the French Lycée of London" in South Kensington, where she entered the "Lettres Supérieures" class and graduated from this first year of university.
She then studied for her BA in Sarrebrucken (Germany), in Lille (France), and in Abidjan (Ivory Coast - West Africa).


She applied as an English teacher at the French Ministry of Cooperation and was sent in Ouagadougou, Africa. She started teaching and singing with pupils and with a local African band. That's where it all began :
She started singing for fun, to wake up the establishement represented by the white colons of that period. The French Cooperation Administration did not appreciate to have a teacher singing on a stage accompanied by black local musicians in front of 5.000 people. This was pure provocation for them. They did not renew her contract. But the passion for music was born.
Back to Paris, she had to work. She decided to open a private English class for young children.
Michèle-Marie happened to have a large flat in Paris with a grand piano, so she decided to teach them English singing with her piano. The concept of Pop English was born.
At some friend artist's office she was asked by a producer what she was doing. She explained her project of starting an English class for young children singing and playing the piano. He said "That" Sesame Street" ! Fantastic, we must make a television show with it. Please, go on writing the songs and the synopsis of the show.
From a private English classes project, it became a TV program project.
One day, Michèle-Marie read an add in "Rock' n Folk" from a publishing company looking for a singer, she decided to take a chance. The publisher liked both her voice and her profile.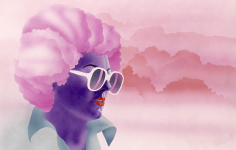 He decided to produce Michèle-Marie as a recording artist. He made her listen to new original songs and she immediately chose one from a composer totally unknown, who some years later became a very famous and popular star in France "Laurent Voulzy", awarded many times the best song writer of the year.
Michèle-Marie started writing the lyrics, she asked Laurent to compose the music and they both sang together. They wrote a series of successful songs still working magic to-day. A designer came join the team of artist to illustrate the songs. Slides were made to realize an audio visual support.
Soon after, Michèle-Marie found a job in a private school near Paris as an English teacher. There too, she used to bring her guitar to entertain her pupils and taught them many English folk tunes and her new Pop English songs.

The children loved such classes. And they used to applaud her every time she entered a classroom.
One of her 14 years old pupils invited Michèle-Marie to a party in a very famous castle "Le Chateau d' Hérouville", a famous recording studio settled in a castle near Paris, where Elton John, David Bowie, Rod Stewart, Deep Purple and the Pink Floyd used to come to record their albums.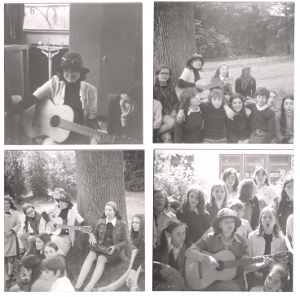 The children introduced Michèle-Marie to Michel Magne, another famous artist, owner of the recording studio. The children presented her as their "fascinating teacher whom they loved".
To please the children he listened to the rough demo songs and to her project of TV program, He loved the project and the songs and offered Michèle-Marie his world famous recording studio to record for free !!!
In 1976 the first book and record was licensed and released by a major record company "Eddie Barclays". The press is immediately enthusiastic. A price was awarded for her work. Over 100.000 copies were sold. Other books and records followed.
In 1981, Michèle-Marie established her first Pop English classes. Soon to be developed into a national network all over the country.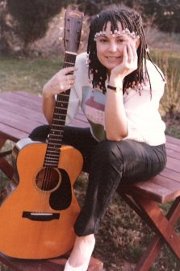 Later Michele-Marie adapted the song into French and started the first Pop Français classes in Australia, then into Spanish for her Pop Spanish classes
1991 : New technology changed the development of the program. She bought the newest machines and adapted the songs and teaching program into computer animation. The television program was now reality.

Pop English by Michèle-Marie was first broadcasted in UK by Children Television in their morning program for the youngest, then broadcasted in France by Canal J during the summer holidays.
The press is immediately enthusiastic.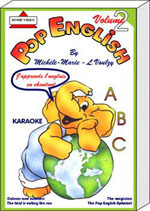 VHS videos were released instead of the books and records.
Those videos became soon an international success. The first customers were the Chinese in Singapore and Malaysia who released a packaging composed of a book and VHS. Later the video rights were licensed to NHK Japan, 1st national TV channel, to KBS Korea, 1st national TV channel who broadcasted Pop English in Korea.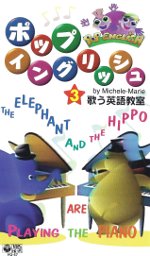 Then the video rights were sold to Spain for the first DVD packaging.
Today, the program is composed of about 100 original songs and 4 hours and 30 minutes videos to be used in exclusivity by the network of Pop English classes. The Board of Education for private schools and Pop English work in partnership.
2007, A new department opens : summer camps in French Brittany on the seaside for foreign and French children. It offers languages workshops with Michèle-Marie's Pop program in French, English and Spanish in the morning and sailing or nautical activities in the afternoon.
2009/2010, POP LANGUAGES INTERNATIONAL, another trade mark registered to shelter under its umbrella POP ENGLISH, POP FRENCH, POP SPANISH. Franchise available.
& ever since I live happily as before...